Jérôme : Hi Mika, how are you ?
Mika : Jérôme, I'm very good. The new album was just released and we got many interesting opportunities and things developing for the future. 
Jérôme : Thanks for having accepted this interview for the JeuxDeCordes.fr readers !
I can't start this interview without asking you what have been your first contact with the music and what gave you the desire of playing guitar. 
Mika : Hmmm. I got very excited about my moms Elvis cassettes as a very small kid. Jumping in the room with an acoustic guitar. Wasn't playing it 'tough. When I was around 11 or 12, I was already into playing and composing music with my little keyboard. But then my older brother got a cheap Stratocaster copy. I wasn't allowed to touch it, but everytime my brother went out, I sneaked into his room to study it! From early on, I really start feeling that I could finally be good at something. You know I sucked at sports….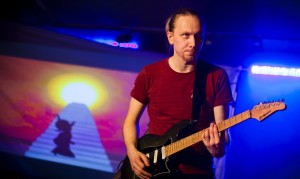 Jérôme : You are also very talented in the design of flash animations. You did all the Mr FastFinger cartoons by your self, two memorable ones for Dream Theater and many other projects. Can you tell us more about this activity and how you've been led to work for the Dream Theater band ?
Mika : I was very passionate about practicing guitar playing when I was around 15 and 16. Going nuts. But then I started getting into composing, then into recording music, sound design. Then I got a computer for sequencing and transcribing music. Then some an illegal copy of very early photohop was installed into the PC. And i got into visuals. Pretty much forgot all guitar playing and went studying multimedia and animation. However then at the design school i got the ultimate idea of combing guitar playing and flash animations. With GuitarShredShow.comI kind of pulled all my interests together to build this cartoon guitar world. The character of Mr. Fastfinger just come out of me and suddenly the whole world was jamming with him online. Maybe one month after the release of GuitarShredShow.com I got a call from Jordan Rudess from Dream Theater. Then DT came to Finland and started developing various projects together with Jordan. Including all the cartoons for Dream Theater, Jordans website,KeyboardWizard.net and all.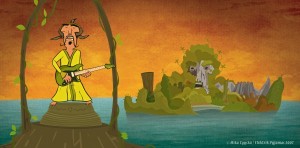 (((btw. There are three cartoons for DT already!)))

Jérôme : Can you tell us were is the magical source of inspiration your ideas for Mr FastFinger, that you put  music and cartoons ?What's the world of Mr FastFinger and the different characters.
Mika : There are many sources. And I keep finding new ones all the time! Original idea was to build an embodiment of my childhood guitar heroes. Musically meaning all the Eddie Van Halen influenced guitarists: Steve Vai, Joe Satriani, George Lynch, Warren DeMartini, Nuno Bettencourt, Reb Beach, Marty Friedman and Jason Becker and so on. Then put this kind of playing together with a character that had all these Samurai, Kung-Fu, Zen and Ninja features.  For the visuals I definitely was inspired by Samurai Jack series, some old samurai films as well as my child hood comic hero Phantom.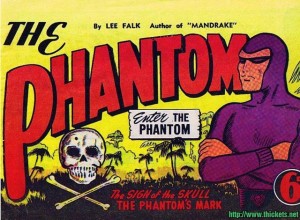 I've tehn gotten into so many new sources. I'm really into some old school manga artists like Sanpei Shirato and Shigeru Mizuki. I'm always keeping my ears, eyes and mind open for new sources. When I recently had to edit a movie like trailer for the album I got very much inspiration out of the trailer for the sequel of Conan the Barbarian.
Jérôme : It sounds like the Mr FastFinger universe evolved with the new album « In Motion ». We can ear some impressive guitar technics. Listening to this album we can smell and hear nature : birds, the sea swash, some real storms. I imagine you have to spend a lot of time to find new guitar technics and tweak your G-System TC Electronics pedal ?
Mika : The original GuitarShredShow.com my guitar playing wasn't so original. But sensei was always talking about the importance of being original. I became his student. Over the years I've gotten deep with inventing my own voice on the instrument. Especially after the debut album I took some time off just to focus on studying new stuff and developing ideas. For me guitar playing is more about self expression today than ever. 
When composing and creating music it's really not just about making sounds. It' s more about building a world for the listener to enter. Even with the vocals missing I'm still trying to create music that anybody could get inspired of. I love to play challenging things on the guitar and develop crazy ideas. But all the techniques and effect and gear are just the tools of expression. The music itself has to have a meaning to me. Only then I want to put it on an album and share it with people. Moving is highly important. Guitar player has to move forward and create music that moves the audience.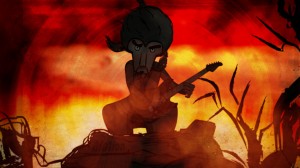 Jérôme : There's a lot of people crazy about gear around here. Can you explain the gear you use and especially what is this green axe you share with the Mr FastFinger Senseï ? Who's the blacksmith ? 🙂
Mika :  The green guitar was custom built by a German guitar luthier Ben Reuters. My main guitar is already a third guitar from him. The whole guitar and body shape was based on the original illustrations I created forGuitarShredShow.com. It's just a perfectly fine guitar that has a lot of feel. It has DiMarzio Evolution for bridge and Seymour Duncan's Cool Rails and Vintage rails for middle and neck pickups. Wilkinson tremolo and locking tuners Schaller locking tuners. 
For amplification I've been using Hughes & Kettner for years now. Mostly TriAmp, their flagship amp. But since last august I got to test out the new Tubemeister 18 amp. I totally fell in love with the tone and the small size. Ever since it has been the only amp I've used for all sessions and live performances. I couldn't be any happier with it. I was so honored to demo this amp for H&K in Frankurt this march. There's a 36 watts amp coming on which I'm definetly going to check out as well. 
For effects I've been using TC Electronic for years as well. We started doing cooperation with TC in 2006 when we started working on Magic Carpet Tour together. http://www.guitarshredshow.com/carpet/  I have G-system hooked both in studio and live. It's the ultimate fx and control device for me. For some smaller workshops or demos where I cannot take G-system I just brind few TC pedals like the Hall of Fame and Nove Delay. Also for tuning I find TC Polytune to most reliable and fastest. 
Rotosound strings I've also been using for 5 years soon. They suit best for my playing style. Great sound and good grip right from the pack. For some reason these strings just don't break that easy as the other!
Also I'm using a lot of GuitarPro6 for transcribing music. Sharing the knowledge and licks is essential for Mr. Fastfigner. Also sometimes I use it as a note book for writing ideas and licks down for future songs.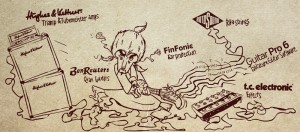 Jérôme : Mr FastFinger is not only you Mika; Some other very talented musicians accompany you, can you introduce them ?
Mika : Thomas Törnroos is the drummer. We already had a instrumental band when we were teens. It was natural to ask him play on all the Mr. Fastfinger stuff since the start. He brings so much groove to the music.  
Lasse Rantanen is a bass player I've been working with since we were 18 or something. Also a groovy player. He has techniques, but most important a lot of soul and very original tone. He's the shaman of the group.
Kalle Katz is a keyboard player who I met through Thomas. Just before the debut album was released. We started doing improvised shows as a trio. He's just so musical and talented and fun dude. I asked him to play with as at the debut album record release party. And everything worked incredibly well. That's how we got together. 
I find these musicians great for this group because they all bring something fresh to the whole sound. The Way of the Exploding Guitar -album was more of a solo album. I wrote almost everything. There was not so much room for Lasse or Thomas to do their own thing as I had composed most of the parts in advance. For this second album I gave much more room for everyone. Many songs were arranged together in rehearsal room.
Mika : Right now I'm working on some videos for couple of companies. Including some funny amp demo, guitar lesson videos for Hughes & Kettner. Then I'll do some improvised soloing, jam track stuff for few companies. 
There are some ideas what to do next. But I haven't decided what's really the next thing. Hope to do more and more of live gigs, cliniques and workshops.
Jérôme : Before you leave on your magical carpet with your guitar on your shoulders, do you have a wise advice to the Jeux De Cordes readers who want to climb up to the peak of their fretboard ?
Mika : If you want to become an artist you have to figure out your own voice and find your own path. No one else can do it for you. First understand what's your mission and what you want to do. Then figure out how to get there.  Inspire your elf from as many sources as possible. Open mind is very important. There is no right way of playing the guitar. Listen to your heart, take some time and write your own book on how you play guitar. 
Jérôme : Thanks Mika ! Banzaï !! We hope to see you soon in France !
Mika : Thank you very much Jerome. Hope to make it to France soon again!
---
Posté par Jerome.B le 18 avril 2012 :: catégorie
---